---
Joanna Kimbrel and Stefanie Boyles, co-hosts of the Daily Grace Co. Podcast, join Bethany to talk about how we should studying the word of God. They discuss how our theology informs our Bible reading and whether we read scripture in a God-centered or a self-centered way. Joanna and Stephanie also share some tips for becoming more faithful readers of the Word for both new and seasoned readers.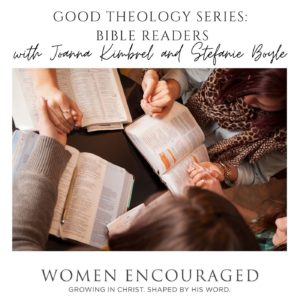 About our guests this week:
Stefanie Boyles has been married for eight years to an Active Duty Army Chaplain, and she is the mother to three young children (ages 5, 4, and 10 months).  She has a passion for women's ministry and has a newfound love for creating theologically rich content for children with the heart of encouraging families in their pursuit of God.  Stefanie is actively involved in the women's ministry on the military installation, serving on the leadership board, and is a Staff Writer for the Daily Grace Company.  She loves her husband's homemade cold brew with cinnamon vanilla creamer, playing board games with her kids, and reading all the books.  Stefanie and her family currently reside in Fort Benning, GA but who knows when or where the Army will send them next!
Joanna has been married to her husband Chad for 4 years and is and mama to one little girl. She has a passion for sharing the beauty of God's Word with others, and believes that good theology and personal knowledge of God changes who we are and everything we do. She loves teaching women to study the Bible in the context of her local church and through The Daily Grace Co. Joanna loves spending time alone in a cozy coffee shop, Saturday morning adventures with her husband and daughter, singing, and chatting about theology.
Resources mentioned in this episode:

Encouragement from this episode:
Joanna and Stefanie shared about
How our theology informs our Bible reading
The difference between reading the Bible in a self-centered vs. a God-centered way
Understanding the great redemptive arc of Scripture