---
About our guest this week:
Abbey Wedgeworth is married to David and mama to their two young sons Will and Walt. Abbey and David met while working for RUF shortly after college and now live in beautiful Hilton Head Island, SC, where David sells real estate and Abbey manages their home, writes, and raises their boys.
Abbey says she gets "fired up about fall weather, planting and growing things, writing, sewing, french country furniture, baking, good books, and good conversation." She is passionate about discipleship and Biblical Literacy and she loves to see the way that the gospel transforms how people think and live. She writes at her blog abbeywedgeworth.com and you can also connect with her on Instagram @abbeywedgeworth.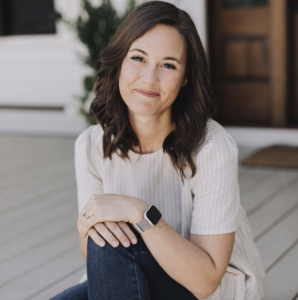 Abbey is the author of Held: 31 Biblical Reflections on God's Comfort and Care in the Sorrow of Miscarriage.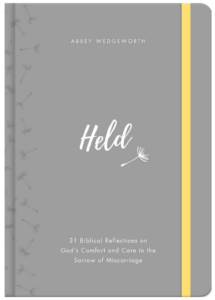 Encouragement from this episode:
Abbey shared with us:
It's important to recognize grief for what it is in the big and small areas of our lives
How the different attributes of God bring us comfort in our pain.
The importance of dependence on God in the midst of grief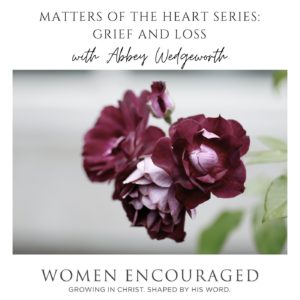 Devotional transcript:
In 2 Corinthians 1 we're reminded of the character of God. Our God is the Father of mercies, the God of all comfort, who comforts us so that we can comfort one another. I'm so thankful for the way Abbey shares the comfort God has given her through Scripture.
"Blessed be the God and Father of our Lord Jesus Christ, the Father of mercies and God of all comfort, who comforts us in all our affliction, so that we may be able to comfort those who are in any affliction, with the comfort with which we ourselves are comforted by God."  (2 Cor. 1:3-4)
Paul shares in this chapter in verses 8-9 how even the deepest suffering that causes us to feel despair is actually meant to make us rely, not on ourselves, but on God who raises the dead. And this is really the comfort we have as Christians: our God is writing a story that ends in resurrection and knowing Jesus, who is the resurrection and the life, anchors our hearts.