In this episode, Jasmine Holmes joins Bethany on the podcast to discuss having a biblically rooted identity when everyone else seems to have an opinion on who you should be. Jasmine shares about her own struggles to find her identity and encourages us to make scripture our authority rather than human expectations. Bethany and Jasmine discuss the difference between worldly shame and godly guilt, and how a strong foundation in the word of God gives us freedom from fear of failing to meet extra-biblical standards
About our guest this week:
Jasmine Holmes is married to Phillip, and mama to two little boys, Wynn and Langston. Jasmine teaches eighth grade at a classical Christian school. Some platforms she writes for include: The Gospel Coalition, Desiring God, Fathom Mag, Modern Reformation, and RAANetwork. Jasmine also has just recently published her first book: Mother to Son: Letters to a Black Boy on Identity and Hope.
You hear more from Jasmine by visiting her website, https://jasminelholmes.com, or connect with her on Instagram or Facebook.
Encouragement from this episode:
Jasmine shared about—
How the expectations of others can often shape our identity
Keeping ourselves from being swayed by human opinions
Not giving in to the fear of man
Letting scripture have final authority over our identity
Discerning the difference between godly guilt and worldly shame.
Notable quote:
"So often we are led by our feelings on both sides of the ditch. On the cultural side, we are led by our feelings because we don't want to do things that make us uncomfortable. But then, on the way opposite side we're led by our feelings because if it makes us feel bad then we think it must be true. And I think the answer there is not to be led by our feelings, but to be led by actual truth – to be led by the Word."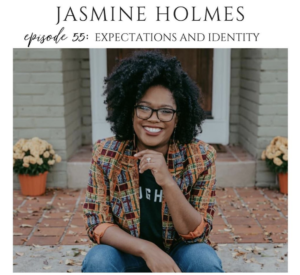 ---
Editor's note: Since the end of November, 2019 our content director and podcast host, Bethany Barendregt has been recovering from an accident. While she's healing, we will continue to publish previously recorded interviews, but there won't be any intros, outros, or devotionals recorded for the episodes.