If you're familiar with Rosaria Butterfield's first two books (mostly revolving around her conversion and gender identity issues), you'll find her latest book takes on a completely different subject: hospitality. As Christians, we are supposed to be known for our hospitality, but often the word hospitality makes us nervous. We feel pressure to make sure our house is company-clean and that we have a meal worthy of Martha Stewart ready for serving.
In The Gospel Comes with a House Key, Butterfield presents a picture of hospitality that fits into her everyday life, challenging our preconceived notions of just what Christian hospitality looks like and how it is capable of changing us and our neighbors' lives for good.
Radically Ordinary Hospitality
Butterfield converted to Christianity in her mid-30s and Christian hospitality played a key part in that conversion process. Thus she sees hospitality as a strategic force to bring others into the church.
Butterfield calls the act of bringing neighbors and strangers into everyday life, "radically ordinary hospitality". She defines this vision as,
"using your Christian home in a daily way that seeks to make strangers neighbors, and neighbors' family of God. . . The purpose of radically ordinary hospitality is to build, focus, deepen, and strengthen the family of God, pointing others to the Bible-believing local church, and bring earthly and spiritual good to everyone we know. (p. 31)
The emphasis of radical, ordinary hospitality is not on presenting a perfect front to our neighbors and the world, but to "make transparent to a watching world what Christ is doing with our bodies, our families, and our world." (p. 31) This powerful form of spiritual warfare allows non-Christians to see us at our most vulnerable, at our weakest and, thus, when we need Christ most.
Hospitality in Real Life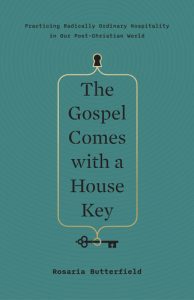 In this book, what really shines through is Butterfield's willingness to show how this radical hospitality weaves its way into her family's everyday home life, in the good moments as well as the bad.
One story is of the Butterfields' neighbor, Hank, and his girlfriend, Aimee. The Butterfields worked hard to befriend this couple, and they and the neighborhood were shaken when Hank's meth lab was discovered and he and Aimee ended up in jail. As the book progresses, we see Hank and Amy's transformation into believers, thanks to the Butterfield family's hospitality. Butterfield shares how hard it was to convince Hank that they wanted to be friends. And while some may be overwhelmed by the intensity of Butterfield's hospitality, the honesty with which she shares her struggles makes her more relatable.
Hospitality Wisdom
Butterfield's book is packed with wisdom and though I struggled to narrow down my numerous favorite takeaways, here are a few:
First, in the chapter on "The Kindness of Hospitality", I was thankful for the list of six practices to consider when having our neighbors over. For me personally, the most insightful practice was learning the difference between holiness and goodness, and not shying away from celebrating the goodness and common grace in an unbelieving neighbor's life.
Second, I appreciated how Butterfield urges the reader to avoid a false sense of entitlement based on one's weaknesses or personality. In an age where everyone knows whether they're an introvert or extrovert, one can make the excuse that, "I'm just not built that way". Butterfield understands and allows for recognizing one's own interests and limits, as she has light-sensitivity issues and is introverted by nature. "Knowing your personality and your sensitivities does not excuse you from ministry. It means that you need to prepare for it differently than others might." (p. 214)
Finally, I loved Butterfield's vision for creating an aura of hospitality that draws our neighbors in and makes them want to go to Christians for help in times of need. Her passion for loving the stranger shines through and I hope some of it rubbed off on me.
Further Thoughts
One caveat regarding The Gospel Comes with a House Key is that a reader could walk away with the impression that the family with a working dad and a stay-at-home mom is the "perfect" way to offer hospitality. I would have been grateful to read examples of radically ordinary hospitality being practiced by people in more diverse life circumstances. I wish Butterfield had offered some illustrations to that end to strengthen her message and help more readers apply the principles she teaches.
While her examples of hospitality might seem a little unobtainable for some of us, by the end of the book she mentions that it's okay to start small and work your way up. Even though this clarification might have been helpful at the start, I encourage you not to be intimidated or overwhelmed by Butterfield's examples. This is a book worth reading all the way through!
The True Purpose of Hospitality
The book ends with the story of Jesus on the road to Emmaus (Luke 24:13-17) where we see Jesus practicing radical, ordinary hospitality with the disciples He's walking with. He doesn't hurry them along or pressure them. Instead, He asks questions, listens and points them to the Scriptures.
Butterfield ties this back to her time with Aimee, and sums up both this book and the idea of radically ordinary hospitality, writing, "Aimee taught me that we put the hand of the hurting into the hand of the Savior when we walk the Emmaus road with them. And that is the heart of the gospel." (p. 207)
This book is not designed to be a quick read on entertaining your friends. It will take you much deeper than tips and tricks for hosting, and will challenge you to consider whether Christian hospitality is an area you can grow in. If you need encouragement to keep practicing hospitality, even when it's hard, The Gospel Comes with a House Key is a book you should read.