---
 
About our guest this week:
Alisa Childers is an American singer and songwriter who writes at alisachilders.com, an apologetics blog for doubting Christians and honest skeptics. Her first book, Another Gospel?, released this fall. You can follow her on Twitter or Instagram.
Bethany shared in the intro to this episode that she feels Alisa's book Another Gospel is a must-read for every Christian. You can find the book at all major online Christian sources as well as Amazon.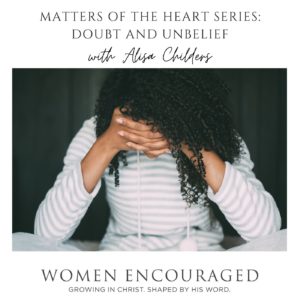 Encouragement from this episode:
Alisa shared about
Her story of how she returned to Christianity after going through a process of reconstruction
The difference between doubt and unbelief
What progressive Christianity is and how it falls short of the true gospel
How to respond when a loved one is experiencing doubt
Devotional transcript:
One of my favorite passages in John is in chapter 6 after Jesus feeds the five thousand and later tells them he is the bread of life, giving some hard words to the people following him.
It's so interesting to me how John highlights the fact that this grumbling about Jesus, his credentials, and his ability happens after Jesus' followers are unwilling to consider and receive his difficult words.
It says in verse 41, "So the Jews grumbled about him, because he said, "I am the bread that came down from heaven." They said, "Is not this Jesus, the son of Joseph, whose father and mother we know? How does he now say, 'I have come down from heaven'?" Jesus answered them, "Do not grumble among yourselves.  No one can come to me unless the Father who sent me draws him."
Jesus went on to say a few verses later, "I am the living bread that came down from heaven. If anyone eats of this bread, he will live forever."
Jesus' own disciples grumbled about this saying, "This is a hard saying; who can listen to it?" But Jesus, knowing in himself that his disciples were grumbling about this, said to them, "Do you take offense at this?" He went on to ask them more difficult questions about their own hearts and what they are willing to receive about him. He said, "It is the Spirit who gives life; the flesh is no help at all. The words that I have spoken to you are spirit and life. But there are some of you who do not believe."
At this point, many of them take offense and walk away, so Jesus asks the remaining disciples if they also want to leave. Peter says to him these beautiful words: "Lord, to whom shall we go? You alone have the words of eternal life, and we have believed, and have come to know, that you are the Holy One of God."
Jesus makes it clear here, that if we have received and believed his words, it is because the Father has drawn us to him and the Spirit has given us life. As Christians, we will regularly wrestle with what we do not understand and what we don't know yet. We will encounter doubts, but we have a God who is constant and true and faithful.
Friend, I'm praying that we will be women who give thanks to the Father who has called us and qualified us. I'm praying we'll continually come back to the One who alone has the words of eternal life. Friend, there is no other savior. There is no other gospel. Let's believe and share the good news.