About our guest this week:
Stacy Reaoch is a pastor's wife and mom of four kids ranging from preschool to high school, as well as a writer and speaker. She says, "My aim in writing is to point others to Christ through the beauty of words, application of the Bible and lessons I'm learning in my own life." You'll find her story on her website, which is full of articles related to Christian living, ministry, motherhood, suffering, marriage, singleness, hospitality and more.
Stacy has also blessed the Church at large by writing encouraging articles for sites like Desiring God, Revive Our Hearts, and more! You can find these through her website, as well.
Stacy is the author of the book Wilderness Wanderings: Finding Contentment in the Desert Times of Life. This is a devotional study through the book of Exodus, encouraging women to find contentment in God, who will truly satisfy us. You can find a copy of her book through Amazon and Cruciform Press.
Stacy mentioned some helpful resources, specifically, Stepping Heavenward by Elizabeth Prentiss and a biography of Elizabeth Prentiss by Sharon James.
She also talked about how Nancy DeMoss Wolgemuth had discipled her indirectly, through the Revive Our Hearts radio/podcast.
Another resource God used to encourage Stacy has been consistent women's Bible study. She also mentioned how her kids have been a source of sweet sanctification.
Quotes from this episode:
"The promises of God help us counsel our own heart."
"I think it's okay and even healthy to grieve those (losses) but then it's a question of, what do we do afterwards? Do we turn bitter and angry at what God's taken away? Or do we say like Job, "The Lord gives and the Lord takes away. Blessed be the name of the Lord"? … When we turn to wallowing in self-pity, it's a lot of times when we're claiming a particular right, like we think we're entitled to something… That entitlement will lead to sinful discontentment."
Find us on social media: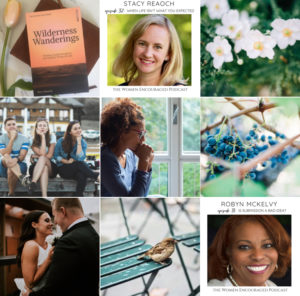 Please be encouraged to connect with us on Instagram and Facebook. We're always so grateful when you share podcast episodes with your friends and when you rate and review on iTunes. If you've already shared your feedback, thank you so very much!
Devotional transcript:
"For the Lord God is a sun and shield;
    the Lord bestows favor and honor.
No good thing does he withhold
    from those who walk uprightly.
 O Lord of hosts,
    blessed is the one who trusts in you!" (Psalm 84:11-12 ESV)

We would do well to know God's word and anchor our hearts in his character and promises, not in our expectations or disappointments. Comfort and hope are not found in imaginary greener pastures or by chasing and grasping at the past.
We can bemoan our circumstances like Israel and live like God has brought us out of slavery to sin only to leave us to languish in the wilderness.
Or we can choose to believe that the merciful God who rescued us from the kingdom of darkness really has transferred us to the kingdom of his beloved son. We really do live in his marvelous light. And he really will use hardship, trials, pain, suffering, and wilderness wanderings to refine us for his glory and for our good.
Available on: