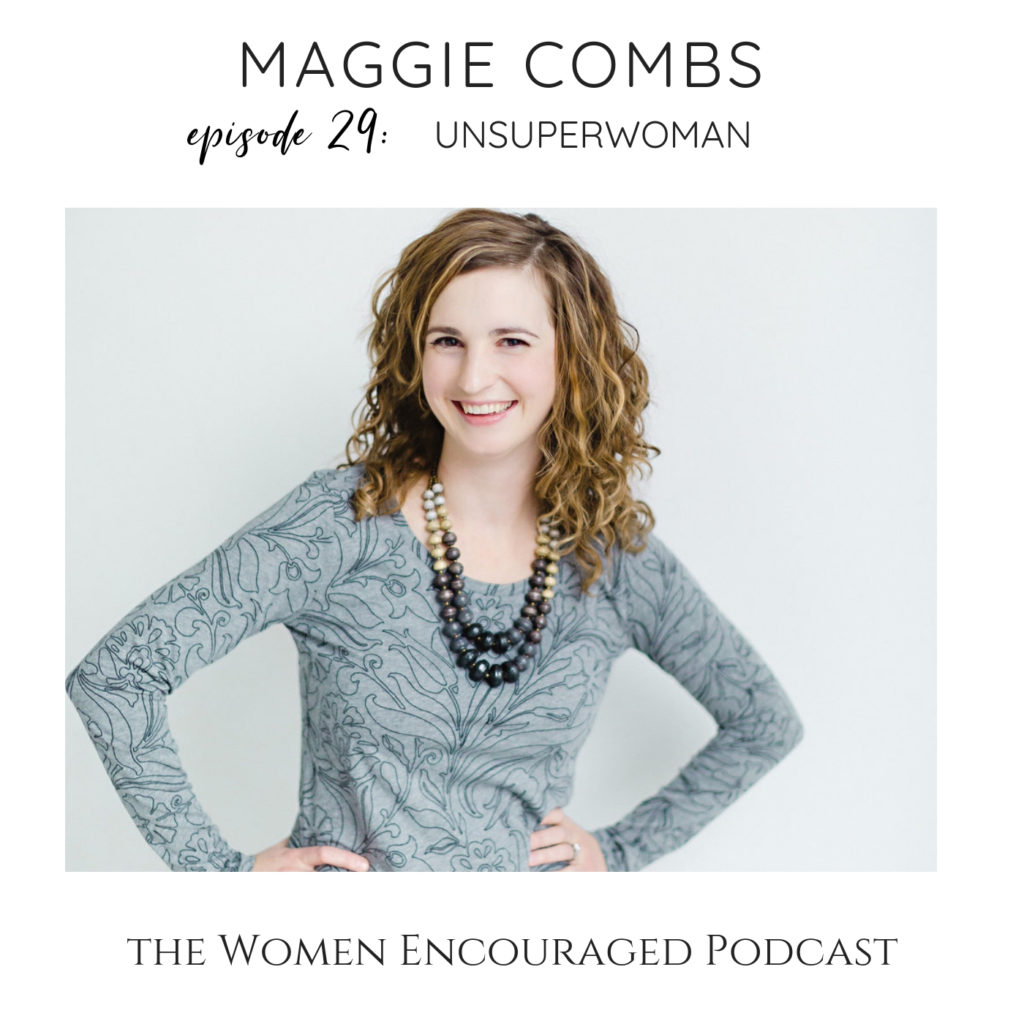 About our guest this week:
Maggie Combs is a wife and mommy to three boys, as well as a writer, speaker, and author of the book Unsupermommy. She says this book is "an honest, practical attempt to understand how God's grace and gospel impact the everyday struggle of early motherhood." You can connect with Maggie at her blog as well as on Facebook and Instagram.
Maggie's book is available at Amazon and Christian retailers such as Christian Book.
Quotes from this episode:
"Remember when you were pregnant with your first baby? You basically spend nine months creating an unending list of bloated expectations for yourself and for your husband and your baby. You plan it all out: 'this is exactly what's going to happen.' And then motherhood comes and of course it looks like nothing that you had expected."
"If we try to add any of our good motherhood works to Jesus, it only leads to disappointment and slavery."
"Putting our good desires on the throne of our hearts – we think it's like the easiest fix to our disappointment with motherhood or the way we're feeling overwhelmed, but really it's a get rich quick scheme. It'll never give you what you're looking for in the end because what your soul really requires is satisfaction in Jesus, and these good desires can never give us that."
Devotional transcript:
"But he said to me, 'My grace is sufficient for you, for my power is made perfect in weakness.' Therefore I will boast all the more gladly of my weaknesses, so that the power of Christ may rest upon me." (2 Corinthians 12:9-10 ESV)
Whatever stage of life you're in, you know the necessity of God's sufficient grace. We may be tempted to believe, though, that his grace is a thin veneer over what we're able to do on our own.
But His grace accomplishes more than simply shining up our best efforts. It works in us to achieve what God desires to produce in and through us. His grace provides us with unfailing, satisfying strength, the kind that contents our hearts and wards off our anxieties.
Charles Spurgeon gave a sermon in April of 1876 on this passage, and he beautifully expressed the truth of Scripture and shared the sweetest encouragement, which I'll close with. He said,
"At this moment, and at all moments which shall ever occur between now and glory, the grace of God will be sufficient for you. This sufficiency is declared without any limiting words, and therefore I understand the passage to mean that the grace of our Lord Jesus is sufficient to uphold thee, sufficient to strengthen thee, sufficient to comfort thee, sufficient to make thy trouble useful to thee, sufficient to enable thee to triumph over it, sufficient to bring thee out of it, sufficient to bring thee out of ten thousand like it, sufficient to bring thee home to heaven.
Whatever would be good for thee, Christ's grace is sufficient to bestow; whatever would harm thee, his grace is sufficient to avert; whatever thou desirest, his grace is sufficient to give thee if it be good for thee; whatever thou wouldst avoid, his grace can shield thee from it if so his wisdom shall dictate.
O child of God, I wish it were possible to put into words this all-sufficiency, but it is not."