Thanks for listening to Episode 11!
About our guest this week: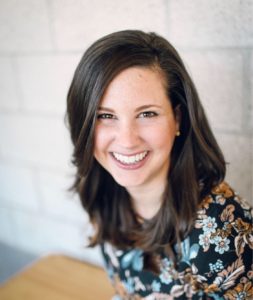 Emily Jensen has been married for eight years and is a mom to five young children. She is the co-founder of Risen Motherhood, currently serving as the Content Director and the co-host of the weekly podcast. Emily enjoys being a part of the women's ministry team at her local church, speaking to mom's groups about the beauty of the gospel, and teaching in the church preschool nursery. Emily and her family reside amidst the cornfields of central Iowa.
Risen Motherhood is a well-established and respected podcast hosted by Emily and her sister-in-law Laura Wifler, but they also run a resource-rich website full of encouragement and Gospel-truth. Emily and Laura are c0-authoring a book due next fall 2019, which we are greatly anticipating.
You can connect with Emily, Laura, and the whole RM team at the Risen Motherhood website, on Twitter, on Facebook, and on Instagram. 
Episode 11 devotional transcript:
In her book, Treasuring Christ When Your Hands are Full, Gloria Furman wrote,
"Because of the Gospel – the news about what Jesus did to save sinners – mothers who make Christ their treasure can rejoice in their work as God works in them."
We mothers have a weighty task that can threaten to overwhelm us. Some nights find us collapsing into bed with our heads full of our own failures.
But in Isaiah, God gives us his assurance and comfort and promises of his might and power in the world around us and in our daily lives.
"Go on up to a high mountain, O Zion, herald of good news; lift up your voice with strength, O Jerusalem, herald of good news; lift it up, fear not; say to the cities of Judah, "Behold your God!" Behold, the Lord God comes with might, and his arm rules for him; behold, his reward is with him, and his recompense before him. He will tend his flock like a shepherd; he will gather the lambs in his arms; he will carry them in his bosom, and gently lead those that are with young."
Isaiah 40:9-11 ESV
The Gospel is for us all. It transforms our mothering because it transforms us as people. Our God is mighty to save and we do not walk this road of motherhood alone.
The Lord is faithful and if he has called us to motherhood, we can be certain that he will accomplish in us and our children his good pleasure.
We have a choice to make -we can allow the potency and weight of our task as mothers to overwhelm us or we can stand with the strength of Christ undergirding us. Sister, it's true that we have a great need – but we have a great Christ for our need.
"What then shall we say to these things? If God is for us, who can be against us? He who did not spare his own Son but gave him up for us all, how will he not also with him graciously give us all things?" Romans 8:31-32
God's abundant grace extends to us as well as to our children.
So in all these things, in all our sleepless nights, with our teething babies and croupy toddlers, when we are teaching our children the importance of obedience, in all our efforts as we labour to live out the gospel in front of our children and with them, "we are more than conquerors through him who loved us." (from Romans 8:37 ESV)
Available on:
If you've already left a review and rating, thank you! Your feedback helps us to get the word out and to be able to reach more women. We are amazed by and thankful for the feedback we've gotten so far!
You can connect with us on Instagram @womenencouraged or on our Facebook page as well as in  The Women Encouraged Facebook Community.