About our guests this week:
This week, we welcomed Pastor Matthew Kruse and women's ministry leader Patti Rosell from Seven Mile Road Church near Boston, MA. They have a podcast called Kalos Conversations which is geared towards "helping churches create discipleship communities where women can be helped to believe the gospel, understand and embrace their femininity, and get mobilized to partner fully in gospel ministry through the local church." 
Pastor Matt and Patti have been featured on the Churches Planting Churches podcast (TGC/Acts 29) with Tony Merida.
This episode is the final part of our little three-podcast mini series on women's discipleship.
In our first episode, we talked with Gretchen Ronnevik about Gospel Mentoring. 
In the second part of the mini-series, we chatted with The Gospel Coalition's Women's Training Network staff – Taylor Turkington and Katie Roberts. 
Discussed in the episode: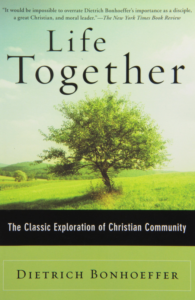 Bethany read a quote from Dietrich Bonhoeffer's book Life Together.
Thanks for listening! You can find us on:
 If you haven't left us a review, would you consider leaving one? Your feedback helps us to get the word out and to be able to reach more women. We are amazed by and thankful for the feedback we've gotten so far, and so grateful for the reach of this effort to encourage women.

Connect with us on Instagram @womenencouraged or on our Facebook page, as well as in The Women Encouraged Facebook Community.
Devotional Transcript:
As Christians, we're called to love each other and be a blessing in the life of the church, and a quick look at the one-another's in Scripture gives us a good sense of how we're called to live in the fellowship of the body of Christ. Paul wrote to the Thessalonian church,
"Therefore encourage one another and build one another up, just as you are doing. We ask you, brothers, to respect those who labor among you and are over you in the Lord and admonish you, and to esteem them very highly in love because of their work. Be at peace among yourselves." (1 Thessalonians 5:11-13 ESV)
If you've been hurt in the context of church, please know, we don't want to minimize pain, but we want to encourage you that God is faithful, even when his people fail each other. We can be assured that Jesus loves his bride and the Holy Spirit is at work in the hearts of his people.
Take your hurt and pain to the cross of Jesus Christ. Give it all to Him and trust that even in this, He is at work in you and in your fellow believers. Seek counsel from a godly Christian pastor or another wise, mature believer who will help you to look at your situation from a Biblical perspective and who will encourage you to be freed from bitterness.
There are truly thousands of healthy, faithful churches around the world where pastors seek to obey the Scriptures, preach the Gospel of Jesus Christ in truth, and shepherd their flocks faithfully. We pray that you're part of a church like that, where you can be taught and shepherded by a pastor, being discipled and trained to make disciples for Christ Jesus.
We can all take time to pray for our pastors and for the people we are in fellowship with, asking God to show us how we can encourage them and build them up.
 Now may the God of peace himself sanctify you completely, and may your whole spirit and soul and body be kept blameless at the coming of our Lord Jesus Christ. He who calls you is faithful; he will surely do it." (1 Thessalonians 5:23-24 ESV)